These are step by step directions for setting up screen time. This is a very powerful tool that can be used to set limitations locally on the ipad.
****Please be aware that youtube is used heavily in the curriculum of some classes, and will need to be available for students in those classes****
First, navigate to Settings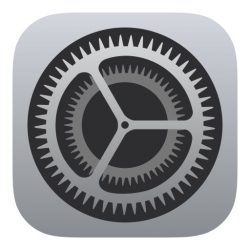 When in settings, click on the "Screen Time" tab on the left-hand side of the screen.
A screen time features summary screen will pop up - press "continue".
On the next screen, select "This is my child's iPad".
The next screen is downtime. This applies more to parents than teachers. If you would like to set something like a bedtime the device will only be accessible within the parameters that you set. Please be cautious that homework is assigned on these devices so you will want to give ample time to complete assignments. Click
"Set Downtime" if you would like to use this feature if it is unnecessary click "Not Now".
With App Limits, you can set app-specific content settings via this screen. Keep in mind this will not affect the use of Safari to get to these items.
**Example if they open safari, and type www.facebook.com this will not block that. Only the use of the Facebook app**.
If you want to use this feature click "Set App Limit" If not click "Not Now".
Next will be a summary of the Content & Privacy restrictions that you can add later. Please click "Continue".
You will then have to enter a passcode. This should be separate from the student's iPad passcode, and should not be given to the student. You will need to enter it twice. This cannot be reset by the IT department, so please choose something you will remember.
You will now have screen time successfully set up it should take you back to the main settings screen. It should look like this
You can change any of the parameters that you have set via this screen at any time as long as you have the restrictions(parent) passcode that you created earlier.
Blocking Specific websites on Safari
In order to block specific Safari, websites click on the "Content & Privacy Restrictions Tab".
Enable Content & Privacy Restrictions at the top of the screen and then click on the "Content Restrictions" tab.
Next Click on the "Web Content" Tab.
Next make sure that "Limit Adult Websites" is checked, then click the "Add website" under the Never Allow area
I would recommend navigating to the site and copying, and pasting the URL directly here so that you know it is correct.
Any website that you add here will be blocked locally on the iPad.